Choosing what to do for a birthday is a difficult matter. But not always. When my birthday rolled around last year, the family asked me, "What shall we do?".
Well, I knew exactly where I wanted to go.
There is no place like Wingspan. It's in Rotorua, and it's probably one of the best wildlife experiences in New Zealand.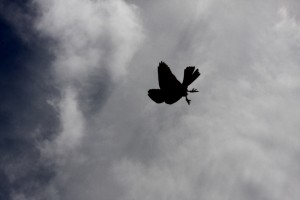 Basically, Wingspan is a rehabilitation centre for raptors, that is, birds of prey. They have the Morepork, Kereru (New Zealand Falcon), and Australasian Harrier. Recently they have acquired a Barn Owl (very rare, and very beautiful, and hard for me to photograph, as the flash on my camera is dead).
But to refer to it merely as a place where they take care of birds is a complete understatement. It's an experience.
The folks at Wingspan do Falconry with their charges. But not just for the public. These guys (and gals) have amazing dedication; they're out there, 7 days a week, 365 days a year, keeping their birds well fed and exercised.
One of the Falconer's, Debbie Stewart, jokes that they "are out-standing in their field". Very often.  The birds have great freedom as they fly, and can be gone for hours if they take a mind to.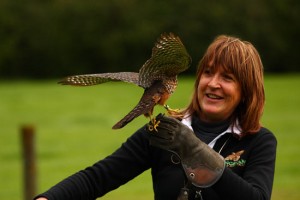 Debbie conducted the first public display, at 2:00pm, with "Ozzie" a male NZ Falcon. She gave us a quick talk about NZ Falcons, followed by a display of falcon aerial acrobatics that rivalled a stunt jet.
These guys can move. And not just fast; they are so manoeuvrable. It was incredibly hard to photograph, not the least because I was really excited.
Afterwards comes the best part, in my opinion.
Debbie allowed anyone to wear the falconer's glove, and, giving us  a small morsel in the palm, the falcon sat on your hand, while it enjoyed the treat.
Last time, a couple of years ago, after feeding, the falcon had popped up onto my head for a quick glance around ( "You don't mind do you, after all, you do look a little like a post"  "not at all, in fact while your up there…").
Maybe it's my blank expression. The same thing happened this time. Falcon claws are razor sharp, yet they didn't even prick my scalp. All the same, I was glad I was wearing my "artsy" hat. Just in case he got an involuntary twitch.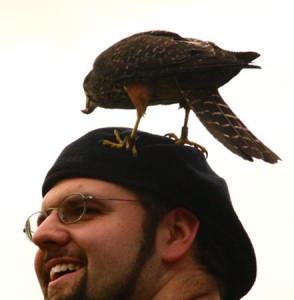 He got up on my shoulder, and then continued to the top of my head, and proceeded to wipe his bloody (as in meat-stained) beak all over my hat. Thankfully, the hat's not mine. I just borrow it from my dad whenever I feel I need to look the part of a dashing but sympathetic artist.
Next came Neil with Ruby. She's the park's star, and she knows it. She's big too; the female falcons are bigger than the males. Her aeronautics are just spectacular.
One if the things I find fascinating during the display, is when they tie the lure to the end of a rope and swing it around. The falcons are able to follow it and adjust for any changes so fast. You see it, and then try to figure out what happened afterward.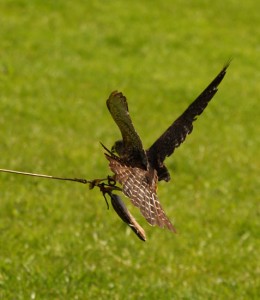 That's one thing that has really inspired me. I want to do a documentary on the Falcon at some stage, also documenting the process of me creating a NZ falcon in bronze, as an educational film to inspire children to sculpt. I'm not sure which I'll enjoy more, the filming or the sculpting. I've been looking forward to creating a bronze falcon for a while. That's been a project that's really been exciting me over the last few years. I've got a few concepts, and they all excite me so much, I guess I'll have to do them all eventually.
One thing I'm really looking forward to doing is capturing that pose, that moment, that snatch of time. Also, I'm looking forward to creating those amazing feathers. I love the way they fluff up and separate.  It's really amazing how much these guys shape changes depending what they are doing with their feathers. Have a look at the set here.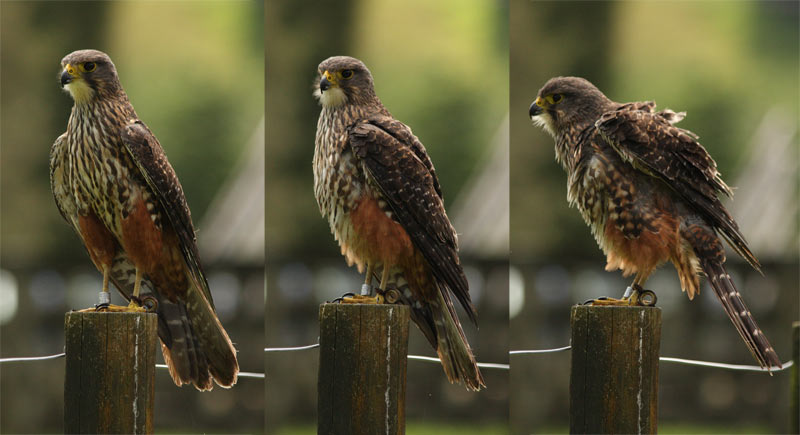 See what I mean? Skinny, Normal, Fatso. It fascinates me. It's wonderful to draw too. I love getting that feeling of fluff. Where you feel like you could almost feel it though the picture.
Anyway, check out the pictures, and make sure you VISIT WINGSPAN! You won't regret a moment of it.